Year 6
These are our topics for next year:
Boggle Hole Residential 2018
It was the first day of our five day adventure and we were all keen to get under way. So once safely aboard the bus, we waved goodbye to the adults who had come to see us off and began the long journey to Boggle Hole.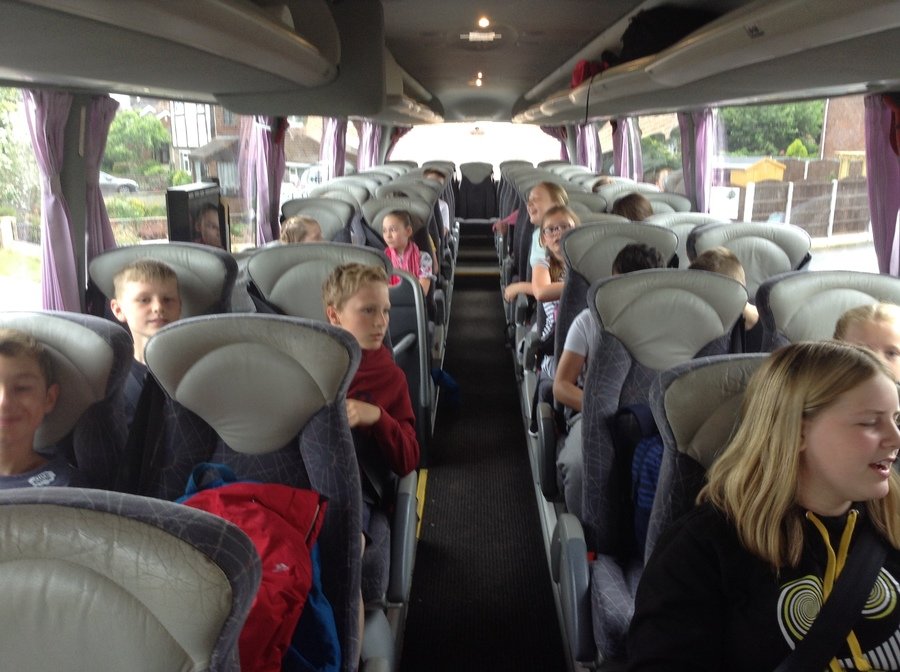 By dinner time we were all getting hungry and were ready to stretch our legs, so we were glad to arrive at the first destination on our journey, Bempton Cliffs. This is a site protected by the RSPB due to the high numbers of different sea birds that come here to nest. We were excited to see what birds we may get to see and even hoped we might catch a glimpse of some of the puffins that come here at this time every year. So after a tasty packed lunch we set off to explore the different viewing platforms.
We loved watching the different bird swooping around the cliff tops and over the sea. There were so many to look at including Gannets, Razorbills, Gulls and of course the Puffins. We were all surprised by how small Puffins really are, as expected them to be much bigger birds. We really enjoyed the walk at Bempton Cliffs and after a quick stop to treat ourselves at the gift shop it was time to get back on our way to Boggle Hole.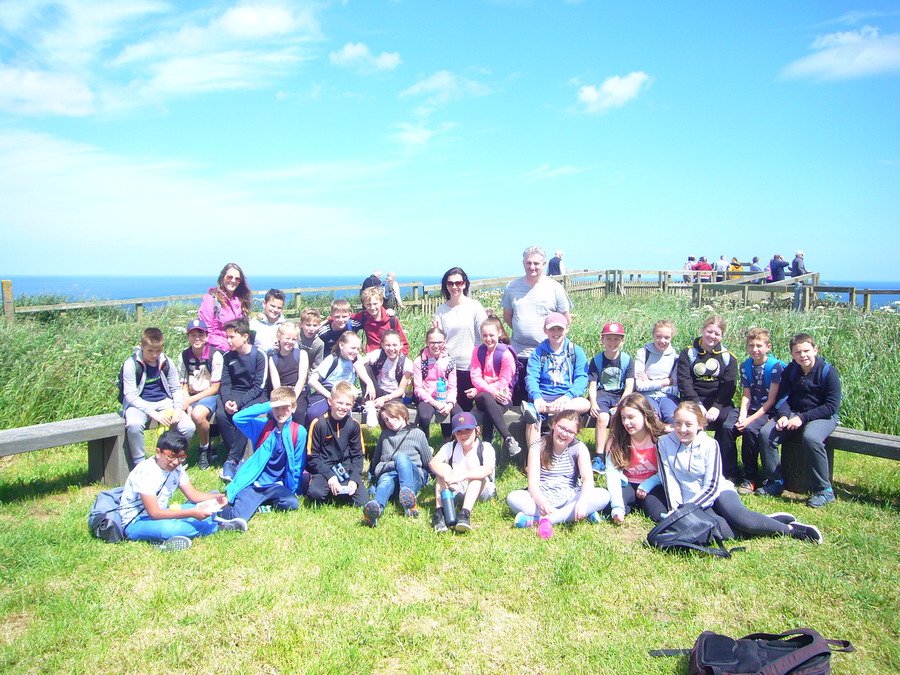 After Frank the bus driver carefully drove down a very narrow track and we had completed a tricky walk carrying our entire luggage, we finally arrived at our home for the next few days. We were all keen to explore our rooms and after a short welcome talk by the centre's staff, we made the steep climb to our accommodation.
Once unpacked and settled in our rooms, we were ready to head for some tea in the centre's dining hall. We were all very hungry after our busy day and enjoyed a tasty meal of jacket potato or pasta and meat balls followed by a choice of fruit salad or chocolate brownie and ice cream.
Refreshed after our meal, it was time for our evening activity, a very hilly walk along the cliffs into Robin Hood's Bay. On our journey we had lots of stairs to climb to reach the cliff tops but it was worth the hard work for the amazing view. We enjoyed looking at the scenery as we made our way into Robin Hoods Bay keeping one eye on the score in the England game as we went. Once we arrived we took some time to look over the sea from one of the viewing platforms. It had been a long walk and many of us were starting to feel tired, but the discovery of a sea themed playground soon had our energy flowing once again. After a lot of fun, it was time to make our way back to Boggle Hole.
It's late now and we are all tired after a long day and are happily settling down for bed, but we can't wait to see what adventures tomorrow will bring.
But for now it's time for a well earned rest.
Good night everyone!
Here we are - it's day two and we are ready for another fun filled day, but first for some breakfast.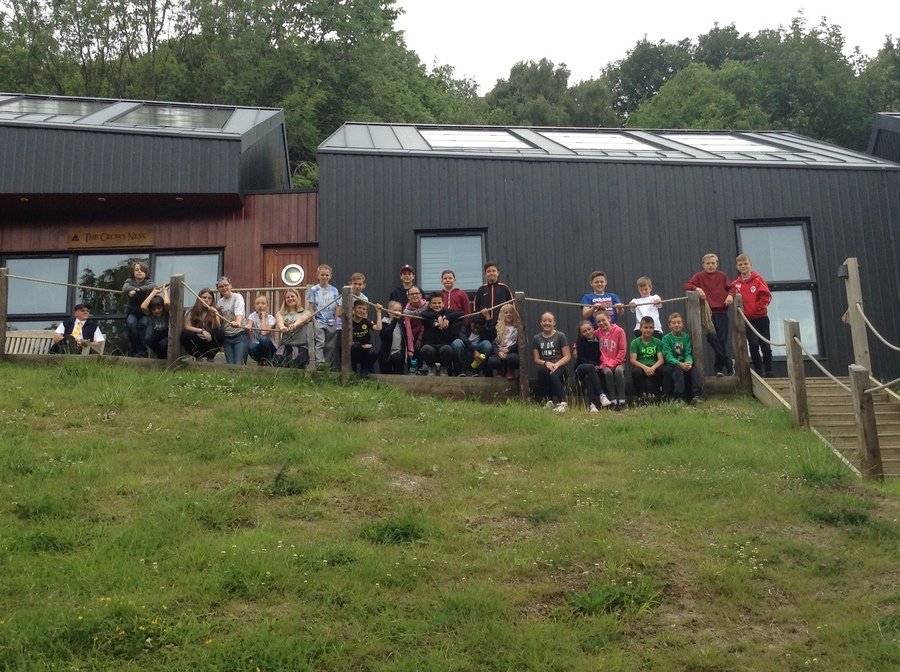 After breakfast we packed up our things and then started back up the steep path to the coach ready for a day in Whitby. After the short ride there, we met up with Mrs Patton who had come to spend the day with us.
Soon after we arrived in Whitby we were excited to see lots of different ships including a replica of the ship used by Captain Cook. We were even lucky enough to see how ships too tall to sail under the bridge, crossing from the old town to the new, are able to make their way out to sea. It was interesting to see how the bridge split into two halves and swung out of the way giving the ships room to pass.
Next it was time to explore a very important kind of sea vessel - the Whitby lifeboat and learn all about the very special job that it does. At the Whitby Lifeboat we were treated to a guided tour around both the boats and the base where the lifeboat crew are launched from. It was really interesting to learn all about the lifeboat and see the special clothing and tools that support the life boat personnel in their work. We were surprised how heavy some of their special clothing was and it took all of our strength to try and lift it.
After our visit to the lifeboat we were starting to get hungry and so we decided it must be time for lunch, but before we could eat it was time to tackle the 199 steps leading up to the grounds of Whitby Abbey. Once we were there it was finally time to tuck into our lunches whilst enjoying the amazing views.
After lunch it was time to visit Whitby Abbey. We had great fun looking around the old Abbey's ruins and enjoyed having the time to run and play a few games in the wide open spaces and spooky scenery. We even tried finding a series of hidden treasure chests that told us bits of the story of Dracula and his arrival in Whitby.
With all the lovely sunny weather we have been having there were no vampires for us to worry about, so it was time to move on to our next activity. We made steady progress back down the steps to the town ready for a quick shopping trip.
After taking our purchases back to the coach and picking up our buckets and spades, we set off once again to one of Whitby's beaches and with the tide safely out it was time for some fun building sandcastles, digging holes and even having a splash in some of the shallower pools of water.
To wrap up our time in Whitby we set off walking once more up a final set of steep steps to Whitby's famous Whale bone arch and the memorial for Captain Cook. Once again here we were treated to some fantastic views which for some of us included the arrival of the coach to pick us up and give our feet a rest.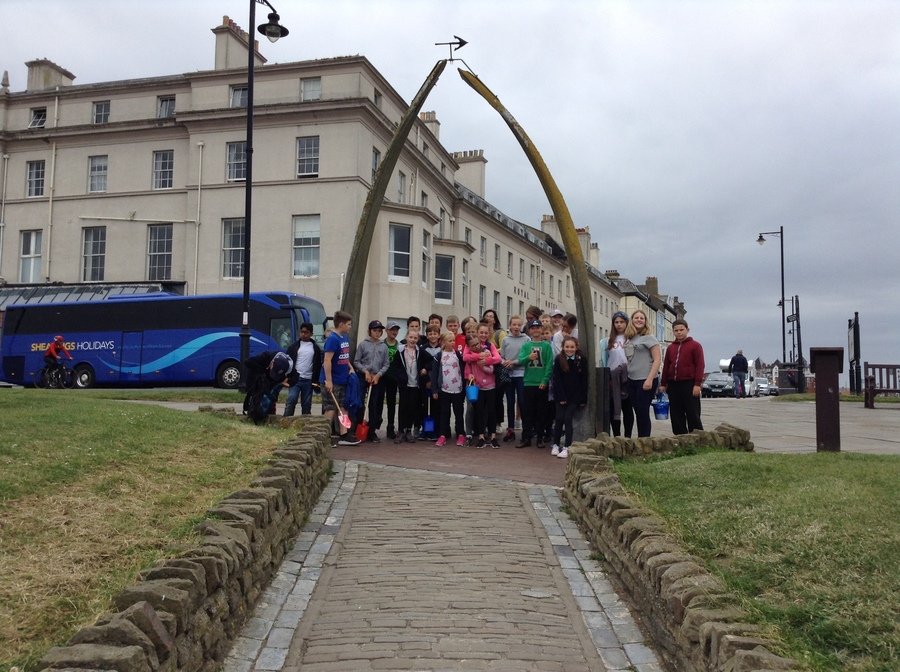 After another tasty tea of chicken pie or Jacket potatoes followed by a choice of fruit salad or chocolate fudge cake back at Boggle Hole, we set off on our final walk of the day. This time we head down a familiar route back along the cliffs to Robin Hood bay for a bit of fun in the play area.
It's been another great day here at Boggle Hole, but now its time for us to settle down for some well earned rest.
Sleep well everyone!
It's the third day of our trip away and we are up and ready for a fun day in Scarborough. But first we need a tasty breakfast to set us up for the day ahead.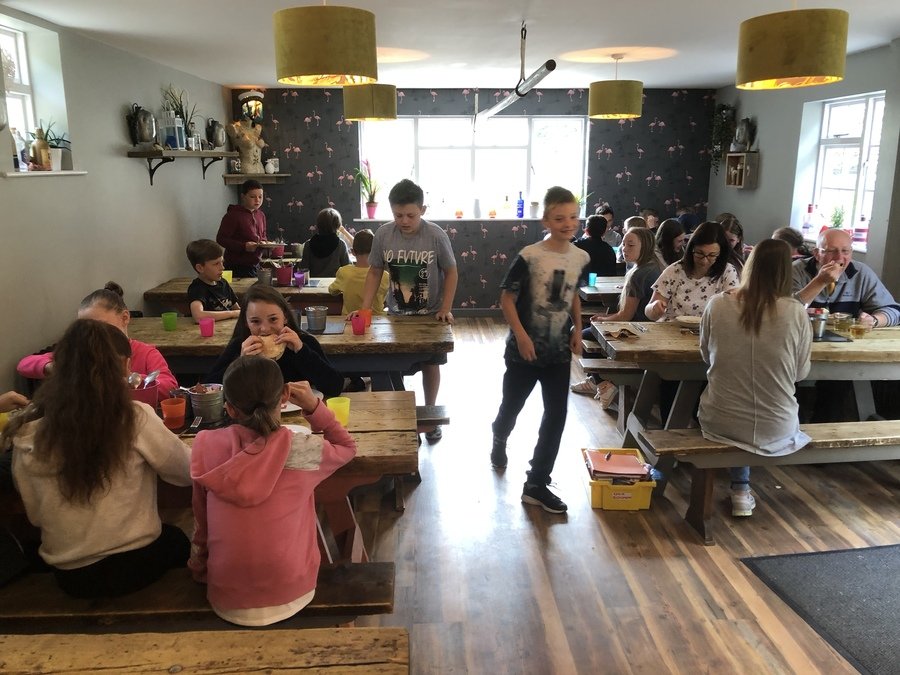 After breakfast we got our bags packed and set off to Scarborough for the day, where we were due to meet Mrs Valentine who was joining the residential today. After a restful coach ride it was time to get our walking boots on again, as we set off up to Scarborough Castle. The path to reach the castle at the top of the cliff was very steep, but just as our energy levels were nearly depleted we discovered a place to recharge our batteries.
After a lot of fun at the play area we continued up the last of the hill until we reached the castle. We really enjoyed exploring the ruins of the old castle and climbing up to the top of the old towers gave us amazing views over the whole of Scarborough and beyond. After a bit of time to play in the castle's grounds, we were ready to sit down and enjoy our packed lunches.
During lunch the weather took a bit of a turn for the worse, getting very windy with occasional spots of rain so we decided it was time to leave the castle and head off to do a bit of shopping. So we headed back down the steep path to Scarborough seafront to enjoy a visit to a few shops and maybe even stop off for an ice cream.
After we had enjoyed our ice creams we decided to go for one last walk along the sea front to meet back up with the coach, where we said goodbye to Mrs Green who was heading back home today.
Back at Boggle Hole, for the first time this week, we were in time to catch the tide going out. We decided to take the opportunity to grab our buckets and nets and head onto the beach to look for crabs and other creatures in the rock pools.
We had great fun exploring on the beach and even managed to find Boggle Hole itself!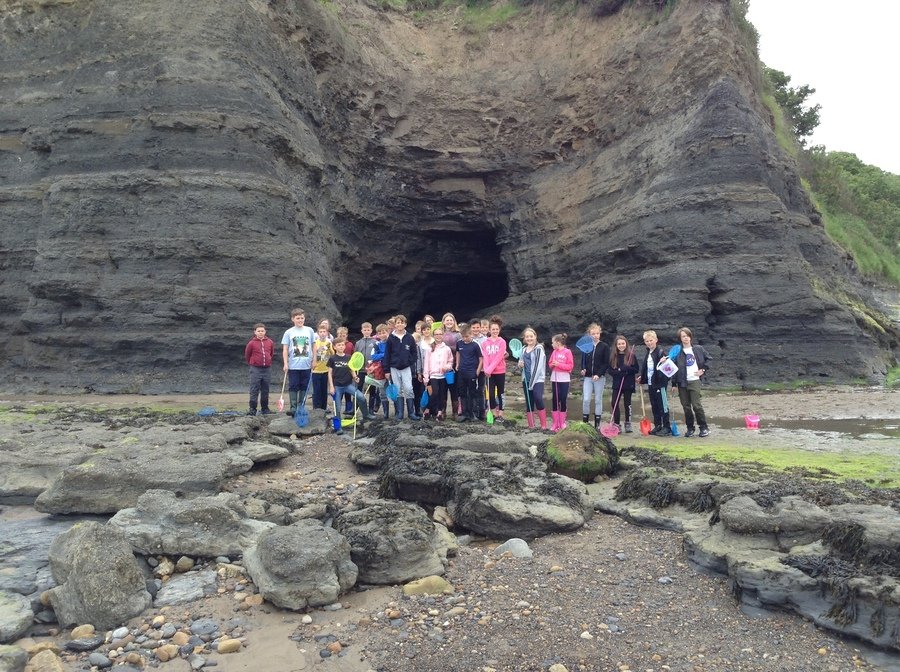 Tea tonight gave us a choice of either lasagne or jacket potatoes with fruit salad or orange sponge for pudding. So after enjoying our choices it was on to our evening activity.
After such a busy week we decided our feet deserved a night off, so instead of walking into Robin Hood's Bay we piled back onto the coach and drove there instead. Once again we found energy we didn't know we still had, to have great fun at the play area and we even challenged all our teachers to join us for a game of 'Tiggy build up.'
Finally to finish the day off we climbed back aboard our coach and all enjoyed a sing song on the way back to Boggle Hole.
It's been another great day here and once again we are back tucked up in bed feeling weary but very happy. We have now reached and passed the halfway point of our Boggle Hole adventure and before long we will be back home, but before then there is a lot more fun to be had.
We can't wait!
After the best night sleep so far and another tasty breakfast we were ready for our last full day on the residential. So we got our bags packed for the day and set off up the hill to the coach. Despite several walks to Robin Hoods Bay and back we had never really explored much of it beyond the play area, so today was our opportunity for a good look around.
After another sing along on the coach we arrived in Robin Hood Bay and picked up all our things ready for a busy day learning more about the bay and the people who live there. Our first stop would go a long way to helping us do that. So we walked down the steep main road and along the narrow side streets to the Robin Hood Bay museum. Here we had a very interesting talk given by a man who had lived and worked in the bay for his entire life. He really amazed us with his knowledge of how Robin Hood Bay had changed over the years. We were very surprise to hear how there are now only 2 families who still live there with the rest of the village being made up of holiday homes and shops.
One of our favourite parts of our museum visit was learning all about the village's connection with smuggling. We loved finding out about all the things that people would do to smuggle goods in but were a little bit shocked with some of the places they would hide them.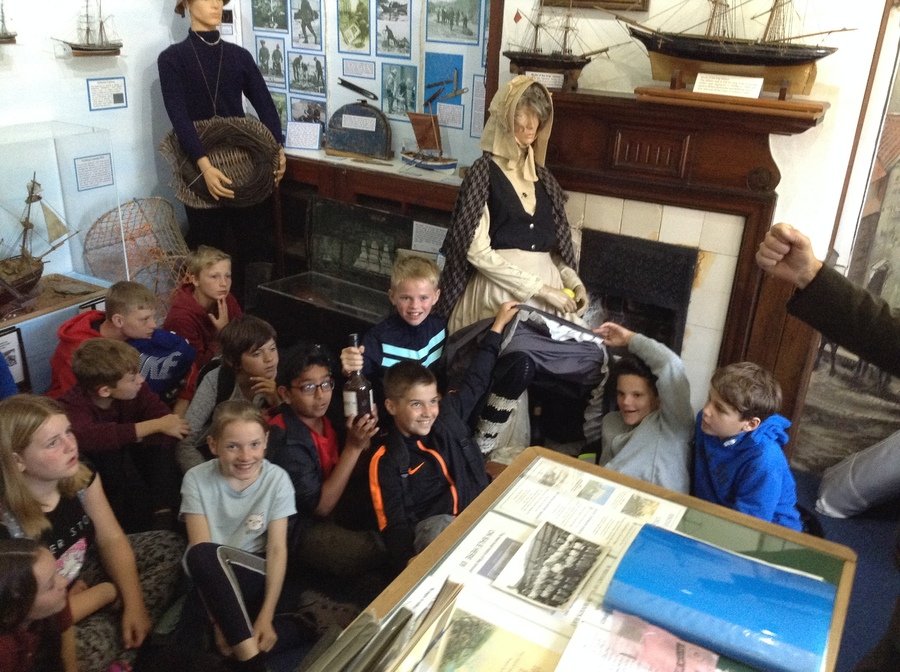 After a relaxing lunch at the side of the sea, it was time for a guided tour around Robin Hood Bay but to our surprise we were the ones who were going to be the tour guides. Using a provided map and list of facts to read out we had to each take turns to guide our friends between points of interest using the guide sheet to tell them all the interesting points at each stop.
After our walk around the bay it was time for a brief shopping trip before we head down onto the beach for a spot of fossil hunting and exploring of the rock pools.
Leaving the beach it was time for the long walk back uphill towards the coach but on the way we decided it was only right for us to have one last stop at our favourite playground.
After a hot and busy day it was nice to have an hour of down time to shower and rest before another great meal of jacket potato or sausage and mash with a choice of lemon meringue pie or fruit salad for dessert. The straight after tea we were off for an evening of fun and games on Boggle Hole beach. First up was a pirate themes treasure hunt, where we needed to scour the beach for a series of letters spelling out a secret pirate code
Next up was pass the booty, a pirate themed pass the parcel game.
To finish off we head back down onto the beach for a bit of a dance to some of our favourite sing along tunes. Very soon things turned competitive though and the only way to settle the argument was via a dance off. We will let you decide who the winners were!
Well after an exciting week it's the last day tomorrow and so it's time to pack ready for home and head to bed for a well earned rest. But we can look forward to just one more adventure on the way back.
Goodnight everyone and see you all soon.
Well after an amazing week the last day had arrived. Reluctantly we all woke up at our teachers insistence, washed, dressed and put into our bags the last of our belongings. Then after a final breakfast it was time to leave Boggle Hole. We had loved staying at the centre so were sad to say goodbye but also we were looking forward to getting back home to our families. So with our cases in tow and bags on our back, we set off up the steep hill and back to the coach one last time.
Back on the coach it was nearly time to head home to Finningley, but we just had time for one little detour so we could spend a few hours in Goathland. We were excited to look at the pretty little village as our teacher's had told us how the railway station was used as the set for Hogsmeade station in the first Harry Potter film and also that it had been used for a tv show called 'Heartbeat' that our Mum's and Dad's might remember. After a short walk, we found the railway station and went to have a look around. It looked very different from in the film, but we were excited to see the arrival of two steam trains whilst we were there. After the visit to the station we found a nice spot to eat our lunch and then it was to get back on the road home.
So we all got settled on the coach once again ready for the long journey home excited to be heading back to see our families and tell them all about our adventures.
Happily along the route there was plenty of time to enjoy a last sing along with some of our favourite songs from the week.
We are all safe at home now and catching up on some rest after a very busy week. Our Year 6 residential has given us so many great experiences. There have had times that have been exciting, times that have been fun and even times that have been challenging but one thing is for sure it has been an experience we will all remember for a long time to come.
Thank you Boggle Hole!
From Year 6
Year 6 Memory Book
During the transition period the Year 6 children have engaged in a project to record some of their strongest memories from their time at St Oswald's Academy. They have worked hard to gather the memories together and to use school computing equipment to create a record of them.. Below you will find a link to the document created from all of these memories which you can look at or even download and keep. .
Gallery Rebels: January 2017
Local Sculptor, Neil Wood recently visited our Year 6 pupils as part of their 'Gallery Rebels' topic. They were able to look at sculptures he had created and to have a go at making some of their own, using clay moulds and plaster of paris.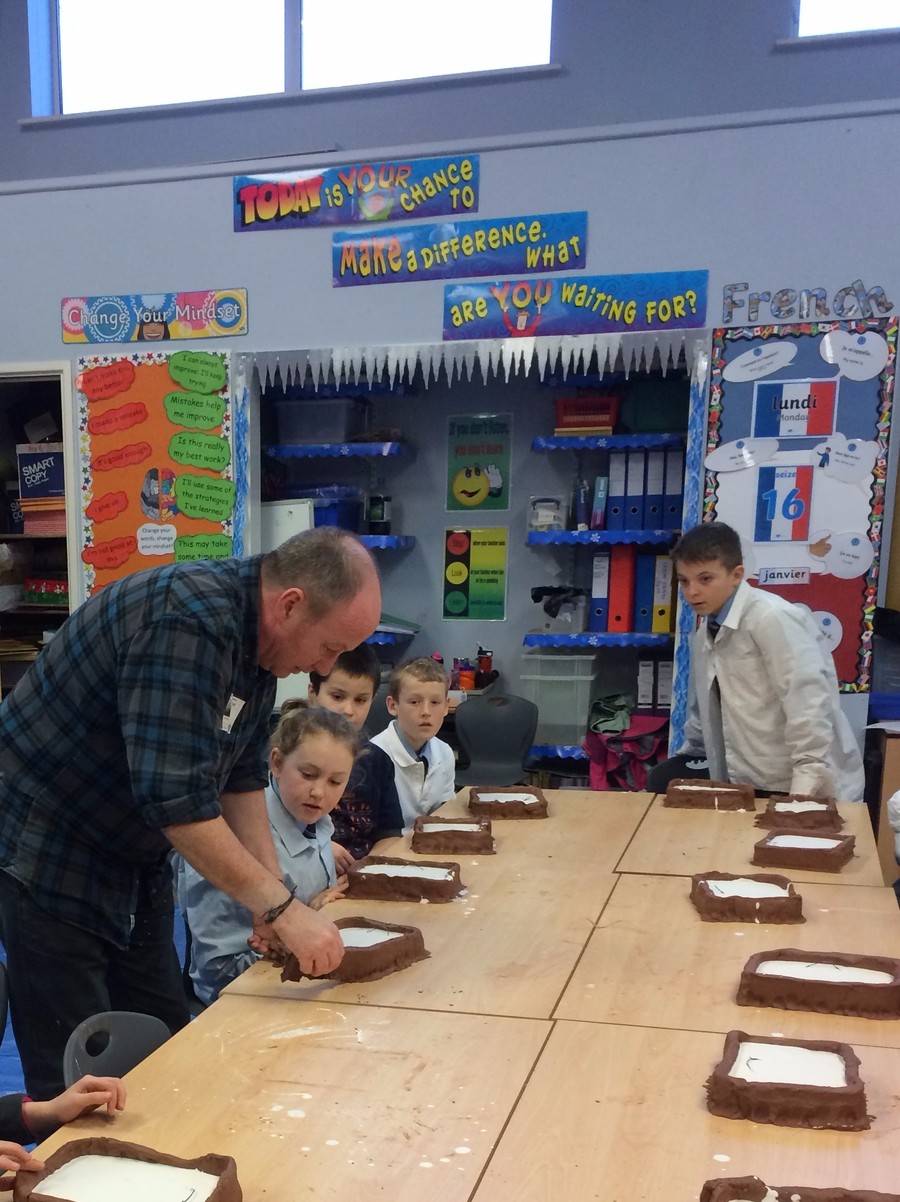 Frozen Kingdom: Autumn 2016
Year 6 visited 'Project Polar' at the Yorkshire Wildlife Park as part of their Frozen Kingdom topic.