Year 5
Our topics for this year: 2018/19
Stargazers

Pharaohs

Off With Her Head!

Allotment
Year 5 Residential 2019 - Marrick Priory
We were all excited to arrive at Marrick Priory for the first of our three days away and.looking forward to discovering what fun experiences were ahead. First we had to get ourselves settled into our rooms. With that done it was time for lunch and a welcome talk by some of the centre's staff.
We found out that over the next few days we would be split into three groups. Each group would be taking part in the same four activities but at different times over our stay.
Our activities were to be...
Canoeing - Making use of the centres mini buses we would be taken to a nearby lake to try our hand at canoeing. Here we would spend the session out on the water learning how to use our paddles to control our canoes movements.
Climbing and abseiling - Here first we would be taking on a series of walls to see how far we could climb using the different hand and foot holds, before learning how to safely repel down from these heights to the ground. With this done we would be ready to take on another scary challenge, to abseil down the inside of the priory's bell tower.
Low ropes - Here we would get to have fun taking of a number of challenges on the centres assault course. A very active session we would need team work to help each other conquer each puzzle and obstacle.
High ropes and archery - One of the scariest activities we would be taking part in, in this activity we would be working at height for the entire session.
Finally each evening we would be taking part in an activity as class group.
So gathering the things we would need for the day we set off for our first challenges.
Group 1 - Climbing and abseiling
After a good nights sleep we are all up and ready for our first full day at Marrick Priory. The first job of the day is to make ourselves a sandwich for lunch before tucking into a tasty breakfast.
Group 3 - High ropes and archery
Group 3 - Climbing and abseiling
Last year's Year 5.........
Countryside Live May 2017
As part of their 'Allotment' topic, Year 5 visited the Ledston Estate for the 'Countryside Live' event. They were fortunate to have a day of sunshine for this outdoor based event, where they learned the skills of beekeeping, weaving corn dollies and farming. The children thoroughly enjoyed the events of the day and all joined in with the experiences on offer.
Kingswood Residential May 2017.......
Monday 8th May
We have had a great first day at Kingswood. It's been both very busy and a lot of fun. We arrived on the bus and had our lunch, before being taken on a tour around the site so that we could have a good look at where we will be staying. After the tour we encountered our first challenge of the day.
To work out how to make our own beds!
Take a look at the photos below.
Once we had our rooms organised it was time to take part in our first activity.... ....'Orienteering!' We had a great time trying to read the map and find hidden codes all around the Kingswood site.
Take a look at the photographs below.
Our second activity was a bit scary for some of us, but we conquered our fears and everyone had a great try at the climbing wall. We were all proud of how well we did.
After some food and a well earned break we finished off the day with a campfire. We enjoyed singing songs and playing some games whilst sitting around our campfire we named 'Flamey.'
It's been a great first day and we can't wait to find out what fun we will get up to tomorrow.
See you all soon
Year 5
It's been another exciting day here at Kingswood. We have had a great time exploring all kinds of new activities. We woke up nice an early as we couldn't wait to get going on the days new adventures. Strangely the adults didn't seem quite as keen to be up so early. After a tasty cooked breakfast, we were all ready to face the day.
Our first activity of the day was 'Problem Solving' where we impressed our teachers with how quickly we learnt to work as a team. In 'Problem Solving' we had many different puzzles to solve through team work and communication. Take a look at what we got up to in the pictures below.
In the next activity session we took part in two different activities called 'Laser' and 'Aeroball.'
In 'Laser' we had to work as a team to score points by hitting the targets on our opponents hats using special laser guns. We enjoyed exploring the exciting indoor landscape to find the best spots to hit the other teams targets, without them being able to hit ours.
'Aeroball' was a fun mix of basketball and tennis which you play whilst bouncing on a trampoline. We had great fun taking on our friends in a competition to see who could score the most points.
After a tasty and very much needed lunch our next activity was called 'Night line.' We weren't sure quite what to expect from this activity, but soon found ourselves blindfolded and being led on a long trail with lots of twists, turns and exciting obstacles to overcome. This was all really tricky to do without using our eyes to help us, instead relying on touch to guide us along the course. Mrs Hirst even came along and joined us on this activity.
Our last activity before tea was archery. We learnt the correct way to hold and load a bow and really enjoyed the challenge of hitting the target with our shots. We even had an archery competition to show off our new skills.
To finish off the second day fun, we spent our evening enjoying a disco. We loved dancing to the music and showing off our very best dance moves. The disco was great fun and gave us the perfect chance to celebrate our second day as well as the birthday of our friend Alex. As a special treat we even had a piece of birthday cake. Happy Birthday Alex!
It's our last day tomorrow but we have lots more fun to go, so now it's time for a much needed rest!.
See you soon
Year 5
It might have been the last morning of our visit, but before we made the journey back to school there was still a lot of fun to be had. After another tasty cooked breakfast we were off on our first activity of the day 'Bushcraft.' In this activity we were shown some of the skills we might need to survive in the woods.
The first part of the activity showed us how to build and light our own campfire. We were taught that fires need 3 things fuel, heat and oxygen. For the fuel part we were taken into the woods to search for dry sticks and leaves to use as kindling. For the heat we took turns to try using a fire steel to create the sparks we needed to start a fire. It was much harder than it looked. Once we had ignited a small fire we used the rest of the kindling to try and keep the fire burning, taking care to not smother the flames so that the fire had the oxygen it needed to burn.
The second part of the activity taught us how to make two different kinds of shelters. Group 1 worked together to build an A frame shelter and Group 2 built a Lean to shelter. We had to work together to carry the logs to build an effective shelter to protect us from the wind, rain and sun.
Our final activity was one of the most exciting that we had taken part in during our stay. The Zip Wire! We first had to put on safety harnesses before taking turns to climb to the top of a tall tower. Once up here we were safely attached to the zip wire. Next came the scariest challenge we had faced, stepping off the platform so that we could enjoy the ride down the cable to the ground. It might have taken some of us several tries, but we faced our fears and feel very proud of ourselves for taking on the challenge.
We may have come home dirty and we may have come home tired, but we have all had an amazing few days away.
Thank you Kingswood!
From Year 5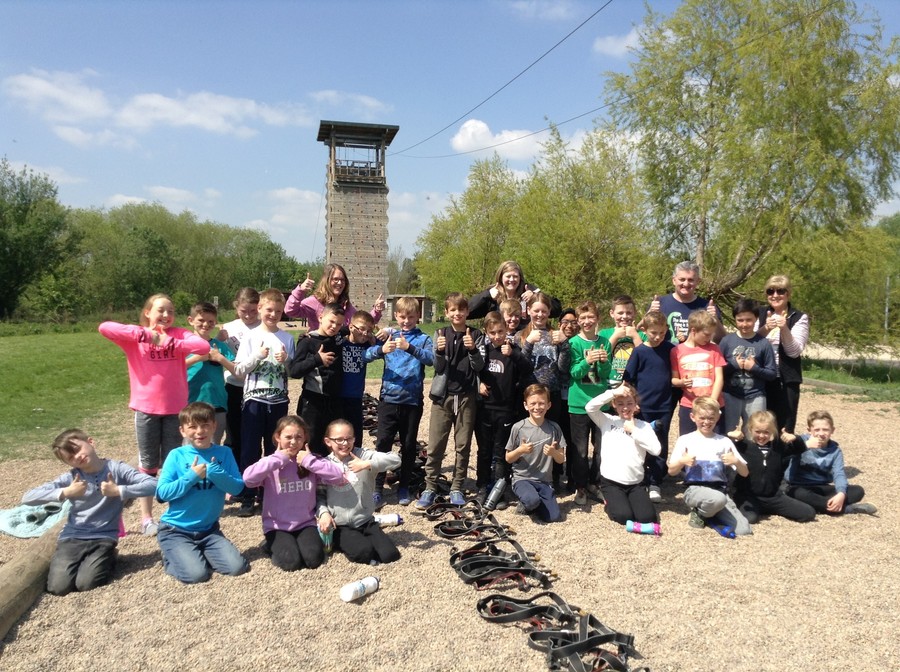 National Space Centre Visit: January 2017
Here are some photos from our recent visit to the National Space Centre. More will be uploaded shortly.....